This was developed and evaluated by the University of Oxford, showing significant participant improvements across the board; in resilience, wellbeing, social capital, psychological distress, mental health awareness, and confidence to manage mental health.
I think it's really good to have some tools that I can use to help me, to let go of things if they got to me, or rationalise things…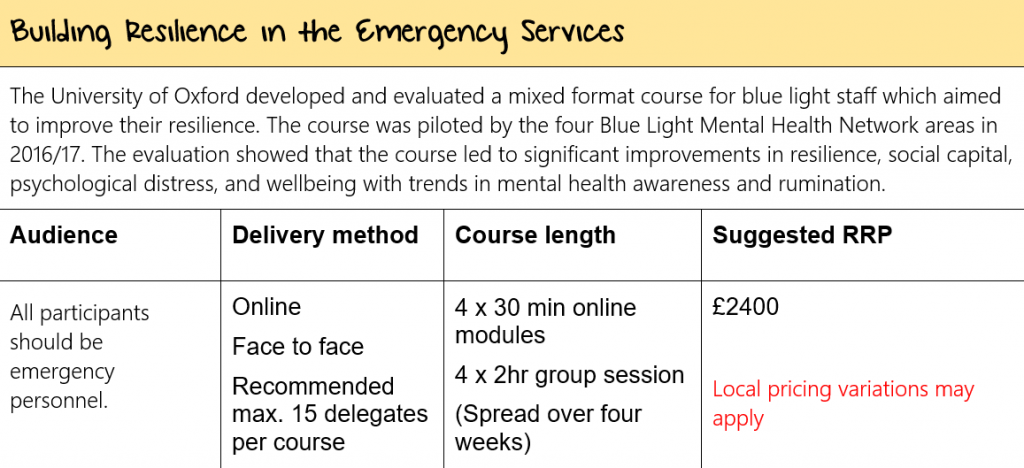 Course aim
To build resilience by targeting the key predictors of long term stress reactions in Blue Light Staff and Volunteers.
Learning objectives
Participants will gain the following:
• Learn practical ways to deal with stress, anxiety and difficult emotions
• Increase your awareness of mental health and resilience building
• Understand the tools and techniques that you can use to help build your resilience
• Practical ways to address worry and personal warning signs for stress or worry
Course structure
• Proven significant improvements in resilience, wellbeing and psychological distress for those who attended the course
• Great opportunity to build relationships and increased support network for participants
Course evaluation
Our evaluation found:
• Significant improvements in participants' wellbeing, resilience, support networks and likelihood of experiencing psychological distress as a result of participating in the mixed format course.
• Participants demonstrated a trend to ruminate less often when responding to unwanted memories, once they'd completed the course. This change lasted over three months.
• The strongest effect was linked to improvements in mental health awareness, which we measured by assessing participants' awareness of and use of coping strategies to manage mental health.
If you would like to find out more about our evaluation please read our research summary here or you can read the full academic report from the University of Oxford.