This course is extremely popular with the emergency services, and has been offered widely across England and Wales. Between 2015 and 2019, over 9,000 line managers, team leaders and pastoral staff were trained in managing mental health in the emergency services.
We have just finished the first training course. I just wanted to say how well it went down with our staff. We consider it to be a huge success and there is considerable appetite to run another session.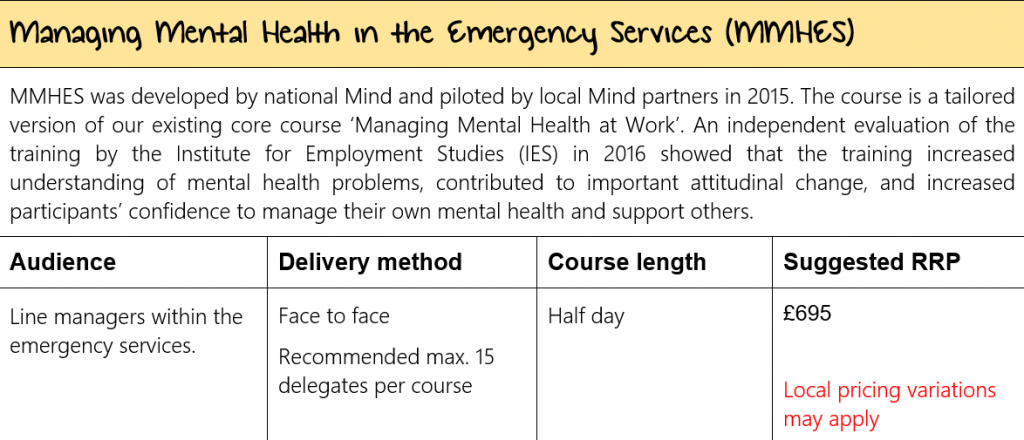 Course aim
This course is for anyone in the emergency services who has a line manager, team leader or pastoral role. It's tailored to the unique environments that the emergency services operate in and we can provide a version for ambulance, fire, police or search and rescue services.
Learning objectives
• Awareness of mental health at work and how work can affect emergency services staff and volunteers.
• Awareness of the signs of mental ill health, and how to broach the issue.
• How to create a mentally healthy workplace.
• How to proactively manage employees' mental wellbeing.
• How to initiate a conversation about mental health and handle disclosure.
Course evaluation
• Participants' self-reported understanding of mental health problems increased by 95 per cent
• Managers' ability to recognise signs and symptoms of common mental illnesses increased by 54 per cent
• 90 per cent felt confident that they could support a colleague experiencing a mental health problem at work.