Mind's research shows that emergency services staff and volunteers really value peer support in managing their mental health. Emergency services personnel are just as likely to seek help from a colleague as from a GP.
The principles of peer support have underpinned the work Mind have done to recruit and train blue light Champions. During the Blue Light Programme, nearly 3000 emergency service personnel across England and Wales signed up to support their colleagues, and change the way mental health is seen within the emergency services.
Really enjoyed today, it was a very interactive session with a great group of staff and two knowledgeable trainers. Thank you!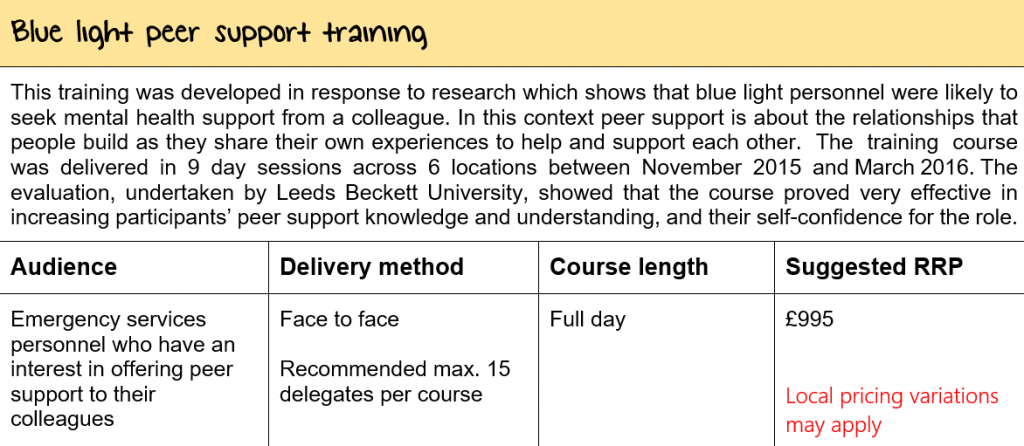 The topics discussed were useful in the context of improving our own service and the wellbeing service in general.
Course aims
To help 999 teams better understand what peer support is, how it can help, and what they can do to support a colleague.
Learning Objectives
• Understand what is meant by peer support
• Understand the key principles and values of peer support
• Understand the role and value of recovery and self-management
• Understand how to use personal experiences to provide support and inspiration for others
• Identify and understand a range of techniques to support peers
• To feel more confident about delivering peer support in the workplace
• Identify and access resources to support them in their peer support work
Course evaluation
According to participant feedback:
• 94 per cent felt that their understanding of peer support and its key principles and values had improved.
• 92.5 per cent felt that their understanding of the role and value of recovery and self-management had improved.
• 88.6 per cent felt their listening skills and understanding of techniques used to support others had improved.
To read more about Mind's support for peer supporters in the emergency service, please go to this page.