In the final year of the Blue Light Programme, 2018-19, we provided trauma-related support through our local Mind partners across England and Wales, who are experts in delivering frontline mental health support. This included a Trauma Awareness Workshop developed with the Tavistock Trauma Service at Tavistock and Portman NHS Trust.
Most of the people in your life outside of work have never seen or been involved in a traumatic event, so this can lead to you feeling alone, different, or isolated from family and friends.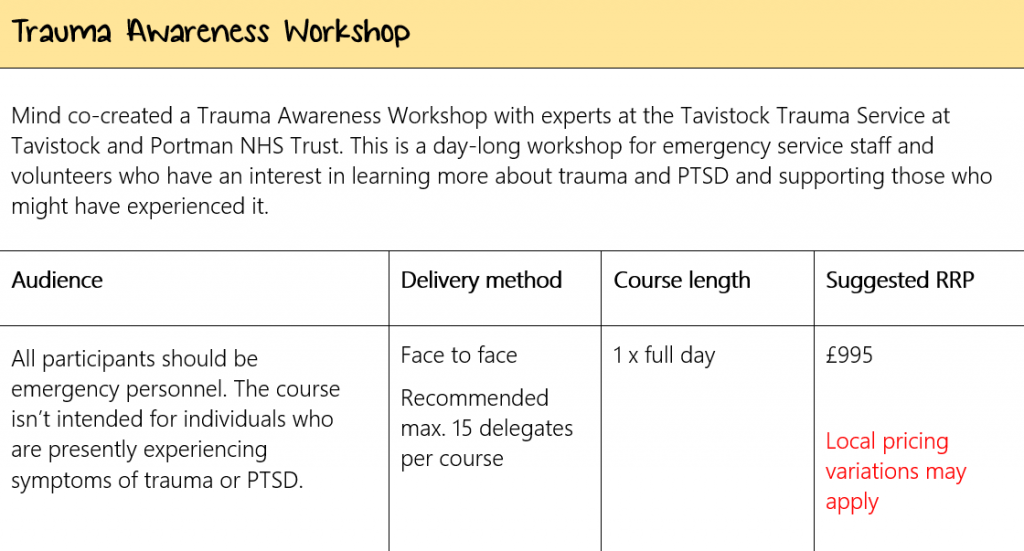 Course aim
To provide information to Emergency Services staff and volunteers who have an interest in learning more about trauma and PTSD and supporting those who may have experienced it.
Learning objectives
• Improved awareness of what is meant by trauma, and understanding of the potential effects of this and how it can affect emergency services staff and volunteers.
• Improved confidence in looking after self and others whilst working or volunteering in the emergency services, and witnessing, or being involved in traumatic situations.
• Enhanced listening skills and the confidence to use these with colleagues and team members who have experienced trauma or are experiencing PTSD.
• Increased knowledge of PTSD and how to approach a colleague who you feel may be experiencing this and signposting to support.
• Understanding of what psycho-education is and how promoting this can support colleagues and team members who have experienced trauma or who are experiencing PTSD.
• Knowledge of signposting and how to do this is a sensitive and supportive way.
• Increased understanding of the importance of boundaries as a Blue Light Champion or Helper and confidence to communicate and maintain these, or seek advice if unable to do so.
• Increased confidence in managing own mental health and the importance of self-care
Course evaluation
• 99 per cent agreed their awareness of trauma and its effects had improved
• 94 per cent said they now felt more confident looking after themselves and others witnessing or involved in traumatic events
• 95 per cent agreed their knowledge of PTSD, and how to approach colleagues who might experience this, had improved.