Herts University Fundraiser – Sweet Afternoon
This Saturday a group of students at the University of Hertfordshire are hosting an event, 'Sweet Afternoon', in support of Mind in Mid Herts as part of their degree.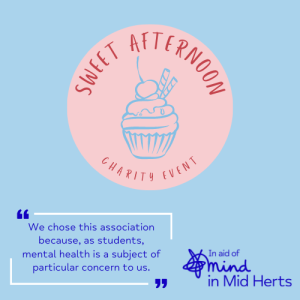 They're selling sweet treats and soft drinks at College Lane Campus, on Saturday 25 of March, at 2-6pm in the Bellingham Common Room in College Lane, with all profits going to Mind in Mid Herts!
We chose this association because, as students, mental health is a subject of particular concern to us. Since the events of covid 19, many students have felt isolated and depressed. It is important to have a good school life in order to succeed. Moreover, mental health problems are very present in the school environment and can have a big impact on our development.
Many thanks to Maturin Buclon, Louis Aline, Alex Boutte, Clémentine Boisard, Jeanne Boutin and Miffy Chan for putting on this event!
Posted on: 22nd March 2023