Our Heart Hertfordshire Hero Awards finalist 2023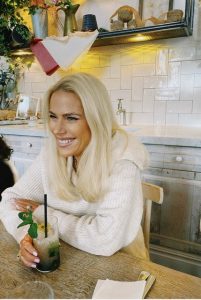 Emma Prigmore at LucyPeachSlice has been an outstanding supporter of and fundraiser for Mind in the Mid Herts over the last 3 years. Across the years she has organised an annual event with donations for raffles and clothes swaps to raise money for us at Mind in Mid Herts with the help of her friends, neighbours and local community.
Last year in September 2022 her clothes swap raised an incredible £6225, which has helped us continue to provide vital mental health support to those who need it across Hertfordshire.
Here's what Emma had to say at one of her clothes swaps:
With the wonderful NHS on its knees when it comes to mental health support, charities like Mind in Mid Herts are vital to the community. I throw myself into this charity work with an overriding determination that comes from needing to do what is best for both my son, and all desperate young people.

But it takes a village. Whilst I am the one that organises the event, it is my family, friends and complete strangers who help to raise such amazing amounts. And it is Mind in Mid Herts who do the incredible work.
---
We felt that her outstanding passion and commitment deserved some official recognition and decided to nominate Emma for the Heart Hertfordshire Hero Awards 2023 – dedicated to celebrating and honouring the unsung heroes across Hertfordshire county.
We're extremely proud to announce that Emma is one of the 3 finalists in her category. The final results for the awards will be announced on Friday 27th January 2023 at Sopwell House in St Albans. We'll be keeping our fingers crossed for Emma on the night!
Follow Emma on Instagram to see highlights from her clothes swap in 2022 and to find about her plans for 2023! 
Posted on: 20th January 2023