World Mental Health Day 2022: make mental health and wellbeing for all a global priority
#WorldMentalHealthDay
The pandemic and its impacts on our mental, and physical, wellbeing has certainly brought mental health into the spotlight in recent years. World Mental Health Day 2022 is therefore a fantastic opportunity to continue to have important conversations to help further reduce the stigma and ensure everyone is able to get the support they deserve.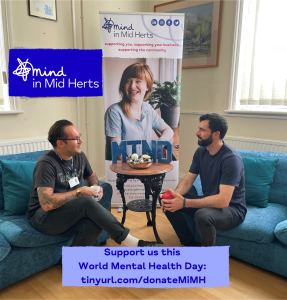 To mark this day here at Mind in Mid Herts we've been sharing Matt's story, who's one of our Project Officers. Follow us on our social media or click here to find out about what he enjoys most about his job and how you can get involved on World Mental Health Day. On Monday 10th October 2022 we are also hosting our very own Open Day at our Stevenage Wellbeing Centre between 12.30pm and 4.00pm which is an opportunity to come along and enjoy a cuppa and a cake and meet our friendly staff and learn more about the services we offer to support your mental health journey. Get involved!
One aspect of life that has been heavily impacted by the pandemic is our working life – many people have had to adjust to remote working, or experienced extreme disruption and anxiety due to unexpected job losses. According to research conducted by Mind over 1 in 5 people have called in sick to avoid work when asked how workplace stress affected them, and 42% had considered resigning. Importantly, 56% of employers also said they wanted to do more to improve staff wellbeing, but did not feel they had the right training or guidance. In 2016, there were over 15 million sick days taken as a result of mental health, and even more concerning is that on average 300,000 people with a long-term mental health problem lose their jobs each year.
If you feel you could benefit from improving your wellbeing at work, our free online 'Staying Well at Work' Course, starting on the 3rd of November, aims to support participants with building their resilience and gaining an understanding of what impacts their wellbeing at work. Visit here to sign up today.
To honour World Mental Health Day help spread the word, volunteer or consider donating what you can here to help us continue to deliver our services.
We want to say a huge thank you to Emily at Two Shoes Creative, who has kindly chosen to donate at least 5% of their profits to us from May to October 2022.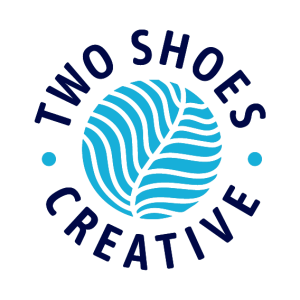 Two Shoes Creative is a branding and web design agency for ethical businesses and charities in Hertfordshire, Bedfordshire, Cambridgeshire and beyond.
Posted on: 7th October 2022